The Bray Liberty Park New Construction Homes Vestavia Hills AL
4 min read
May 20, 2023 12:32:28 AM
The Bray New Development Liberty Park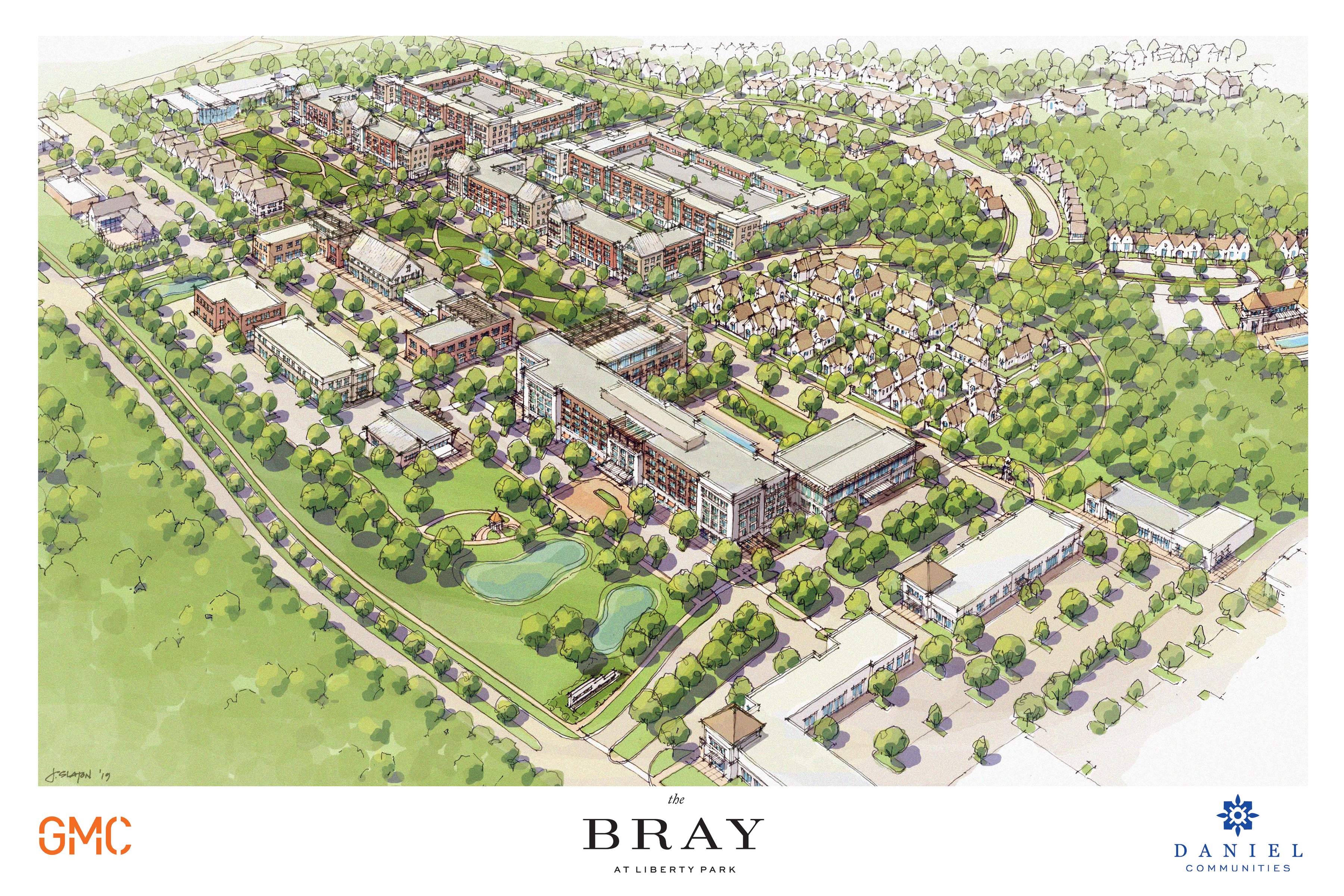 Welcome to The Bray at Liberty Park, an extraordinary Town Village spanning 700 acres, where you'll discover a vibrant community with a range of exceptional amenities. Located in Vestavia Hills, Alabama, a mere 10 miles from downtown Birmingham, The Bray offers an idyllic setting that combines convenience and natural beauty.
One of the standout features of Liberty Park is its expansive town green, a central gathering place that sets the stage for community events and fosters a sense of togetherness. Whether you're enjoying a leisurely stroll along the pedestrian walkways or exploring the impressive selection of shopping and dining options, such as the On Tap Sports Café, Publix, and Anytime Fitness, you'll find something to suit every taste.
Within the grounds of Liberty Park, you'll find a carefully curated array of amenities, ensuring that every corner of the neighborhood is teeming with activity. Shoot hoops on the community basketball courts, refine your tennis skills at the tennis center, and revel in the abundance of parks, playgrounds, and sidewalks that contribute to the close-knit community atmosphere.
Education is of utmost importance, and Liberty Park is proud to be zoned for the highly acclaimed Vestavia Hills school system, which ranks among the top 10 school systems in Alabama. Within the community, you'll find two of the district's schools — Vestavia Hills Elementary and Liberty Park Middle schools — conveniently located, allowing students the ease of walking or biking to and from school.
The Brayfield New Home Features
The Brayfield single Family Homes in Liberty Park delivers an unmatched living experience that will leave you breathless. Let's dive deeper into what sets this development apart:
Sustainable, Eco-Friendly Design:

A Verdant Oasis Amidst the Urban Landscape At the core of The Bray lies a dedication to sustainability. This visionary development integrates eco-friendly elements, including:

◊ 15 SEER Main Level Gas Furnace on Main Level
◊ Zoned HVAC System for 2-Story Plans
◊ Ecobee3 Lite Thermostat
◊ 50 Gallon Gas Water Heater
◊ Low-E Windows
◊ Insulation:
• R-13 Exterior Wall Insulation
• R-19 Sloped Ceiling Insulation
• R-30 Blown in Attic Insulation

Exterior features:

◊ 30 Year Dimensional Roof Shingles with Ridge Vents
◊ Professionally Designed Landscape Plan for Each Lot
◊ Irrigation System in Front, Side and Rear Yards
◊ Insulated Garage Doors with Remote Openers
◊ 2 Exterior Water Hydrants
◊ Mailbox per Community Covenants



Smart Home Technology & Electrical:

Seamlessness Embodied Embrace the future with open arms as every residence at The Bray seamlessly incorporates smart home technology.

◊ 1 Floor Plug in Great Room
◊ 2 Exterior Flood Lights
◊ 2 Exterior Plug Outlets
◊ Wired Smoke Detectors per Code
◊ Ceiling Fan in Great Room and Primary Bedroom
◊ Guest Bedrooms Pre-Wired for Ceiling Fans
◊ LED Flushmount Lighting in Kitchen, Butler's Pantry,
Hallways, Closets, Great Room and Bathrooms
(per plans)
◊ Smart Home Ready Wiring with Video Doorbell and
Garage Door Integration



Convenient Location: Bridging Urban Connectivity and Serenity Nestled in the heart of Liberty Park, The Bray offers the best of both worlds. Revel in easy access to major transportation hubs, bustling business districts, and a myriad of entertainment options, all while ensconced in serene parks and green expanses. Experience the harmonious equilibrium between urban connectivity and natural tranquility.

Thoughtful Community Spaces: Bridging Hearts and Souls The Bray fosters a profound sense of community through its thoughtfully crafted shared spaces. From exquisitely landscaped gardens to cozy communal lounges, myriad opportunities abound for neighbors to forge lasting friendships. Embrace the joy of residing in a tight-knit community that nurtures connections.
FAQs (Frequently Asked Questions):
What is the price range of new homes at The Bray New Development in Liberty Park? The price range of new homes at The Brayfield varies, contingent upon factors such as size, lot premiums, upgrades etc. but the base pricing starts in the High $500's for single family homes and the Low $400's for the Brayfield Townhomes. For detailed pricing information, we recommend contacting our sales office directly at (805) 720-6747

Are pets allowed in The Bray New Development? Indeed, The Bray embraces a pet-friendly ethos. Nonetheless, certain guidelines and restrictions may apply. It is advisable to consult with the management to ascertain specific pet policies.

Is parking available for residents? Absolutely, The Bray offers dedicated parking spaces for townhome residents. The quantity of parking spots is contingent upon the size and type of unit.

What amenities and attractions are located nearby? The Bray enjoys a strategic location, boasting an array of nearby amenities and attractions. Residents can relish proximity to shopping centers, restaurants, parks, and cultural landmarks. The vibrant neighborhood ensures a plethora of entertainment options.

Can I customize the interiors of my new home? Indeed, residents at The Bray have the opportunity to personalize certain aspects of their homes within the builders guidelines, such as structural upgrades and interior finishes and fixtures. This affords you the chance to curate a living space that truly reflects your style and preferences.
The Brayfield New Development in Liberty Park represents a paradigm shift in the realm of urban living. Through its sustainable design, sumptuous amenities, strategic location, and emphasis on community, it offers an unparalleled residential experience. Embark on a journey into the future of modern living at The Bray and unlock a realm where comfort, convenience, and sustainability coexist in perfect harmony.
Ready to see what's currently available
in Liberty Park?
Request a list of available New Homes in Liberty Park